The Los Angeles Chapter of ACM SIGGRAPH and the Motion Capture Society will co-host a one night only event on the state of the art in Motion Capture technology.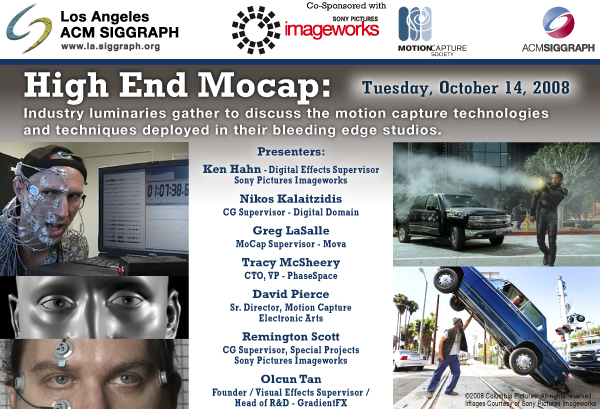 9050 W. Washington Blvd. Culver City, CA. 90232
Schedule
6:30 P.M. - 7:00 P.M.   Priority Admittance for Members only.
7:00 P.M. - 7:30 P.M.   Admittance for the public.
6:30 P.M. - 7:30 P.M.   Social Hours with Appetizers.
7:30 P.M. - 7:45 P.M.   Announcements and Speaker welcome.
7:45 P.M. - 10:00 P.M.   Presentations followed by brief Q & A.
Registration
All L.A. SIGGRAPH and Motion Capture Society members will be admitted
free of charge. $ 20.00 for non-members. New L.A. SIGGRAPH Members who
sign up on-site, and pay the $40 annual membership fee (checks or cash
only), do not have to pay the $20 registration fee.