The R&D team will discuss the pipeline and elements created for Disney's retelling of the Rapunzel story.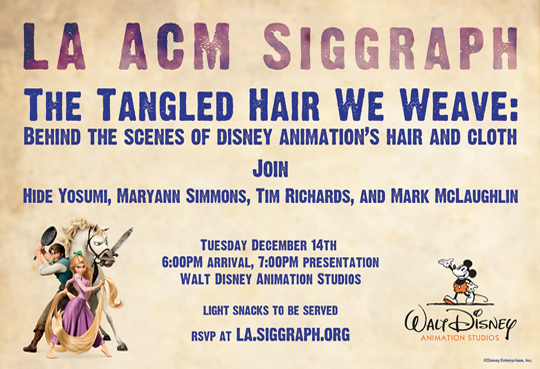 Description
Los Angeles ACM SIGGRAPH Professional Chapter invites you to attend an evening of TANGLED TECHNICAL TALKS (no screening):  Tuesday, 14 December 2010 at the Disney Animation Studios in Burbank
You must RSVP to get on the Disney lot. This means if you are driving, walking, riding, biking, busing, hitchhiking, skateboarding, rollerskating, etc; you MUST RSVP below. If you don't RSVP, Disney security will not let you on the lot.
Seating capacity is limited. Reservations close at 6 AM PST Monday, 13 December or when the capacity is reached. All additional reservations will be placed on stand-by status.
Each Talk will consist of a 20-minute presentation followed by a 10-minute Q&A directly after each talk.
Schedule
6:00 PM   Social Hour   Join us for conversation and snacks
7:00 PM   LA ACM SIGGRAPH Announcements
7:30 PM   Tech Talks:
- 7:30 PM - 8:00 PM   TANGLED Hair
- 8:00 PM - 8:30 PM   TANGLED Cloth
- 8:30 PM - 9:00 PM   TANGLED Effects
Registration
All LA ACM SIGGRAPH will be admitted free of charge. Non-members of LA ACM SIGGRAPH are admitted for $20.00. New LA ACM SIGGRAPH members who sign up on-site, and pay the $40 annual membership fee (checks or cash only), do not have to pay the $20 admission fee.
Special Thanks
To Disney Animation Studios for creating and hosting this event.